Services
We offer services and treatment plans tailored to meet your unique hearing needs. From comprehensive evaluations to custom hearing aid fittings, our staff combines years of experience with state-of-the-art technology to find the best solution for you.
Hearing Tests
Hearing Testing and Evaluations
Choosing the right hearing aid starts with a clear understanding of your unique hearing loss needs. Our advanced testing procedures accurately identify whether or not you have hearing loss and measure the type and severity.
Many individuals live with undiagnosed hearing loss. Our audiologists provide extensive hearing tests to diagnose the type and degree of hearing loss individuals suffer from. Our professional staff will administer pain-free and stress-free tests that will determine the type and degree of hearing loss you have in each ear.
More on Hearing Tests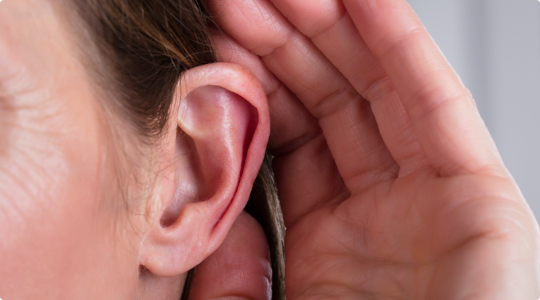 Online Hearing Test
Think You Might Have Hearing Loss?
Take our free, 5-minute online test to get a better understanding of your hearing health. It can determine if a professional screening is right for you.
Our Process
Finding the Perfect Match.
Hearing loss looks different for everyone, and as a result, there are a number of hearing aid varieties on the market. Through careful evaluations and custom fittings, we'll help you find the best device for your hearing loss needs.
Hearing Aid Services
We Service Your Devices
From hearing aid screening, selection and fittings, to ongoing maintenance and repairs – we offer a wide range of services to keep your hearing aids performing their best.
After an initial hearing test and diagnosis, the next step toward a life with hearing aids is the hearing aid fitting. This appointment, which lasts between one and two hours, is detailed and meticulous. From your hearing test results, our staff will ensure your hearing aids are programmed correctly. You will also learn all the ins and outs of the hearing aids, including how they function, how to operate them, cleaning instructions, and more. This appointment is a good time to ask any questions you may have about your aids.
More on Hearing Aid Dispensing and Fitting
If you are diagnosed with hearing loss, the next step is to choose the type of hearing aid that matches your type and degree of hearing loss, as well as your lifestyle. During the hearing aid evaluation, you'll have the opportunity to learn about different styles of hearing aids and how technology and styles vary and can benefit different people. Custom impressions will be taken of your ear during the appointment and sent to the hearing aid manufacturer once you choose the hearing aid you prefer.
More on Hearing Aid Evaluation
Unfortunately, hearing aids sometimes break. When this happens, we offer repair services. Repairing hearing aids is usually cheaper than replacing them; we work hard and carefully to restore your hearing aid back to proper functioning while keeping costs low.
More on Hearing Aid Repair