Hearing Products
If a hearing aid or device is necessary for your hearing journey, our experts will guide you to the best solution. We offer the latest hearing technology and products that address a wide variety of hearing loss concerns, helping you reconnect to the world around you.
Hearing Technology
Modern Solutions For All Types of Hearing Loss
Thanks to advances in technology, hearing products are designed to be more compatible with our lives than ever before. In addition to hearing aids, there are a number of products that make living and communicating with hearing loss easier to manage, so you never miss a beat.
Hearing aids are available in many different sizes and styles thanks to advancements in digital technology and miniaturization of the internal components. Many of today's hearing aids are considered sleek, compact, and innovative - offering solutions to a wide range of hearing aid wearers.
More on Hearing Aid Styles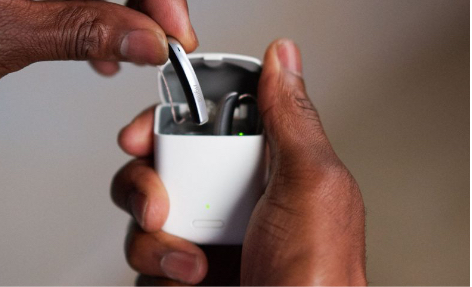 Hearing Product Guide
Curious About Hearing Technology, but Not Sure Where to Start?
With so many styles and options, it can be difficult to know which products will suit your needs. Our Consumer Guide to Hearing Aids provides an in-depth breakdown of the different types of hearing devices, as well as the technology available for all types of hearing loss.
Hearing Aid Manufacturers
Hearing Products Created by the Best in the Industry
When it comes to hearing loss, you need a device you can rely on to perform its best. That's why we carry products from manufacturers with a proven track record of exceptional quality. No matter your budget, lifestyle or type of hearing loss, we have a product to meet your needs.
Hearing Protection
Make Protection a Priority
Protecting your ears from noise damage is essential to healthy hearing. We carry a wide variety of options equipped with the latest features and customizations, so you can find the best fit for your lifestyle.
Over exposure to loud sounds can actually lead to hearing loss. Called noise-induced hearing loss, this type of hearing loss often occurs in specific industries, including music recording. Musicians can find reprieve and help with our special earplugs and monitors. We custom-make earplugs that limit the sound exposure from instruments while enabling musicians to maintain their rich musical experiences. If you're ready to start hearing better, schedule an appointment with Cosmetic Hearing Solutions today. Find out what we can do to get your hearing back into optimal shape!
More on Musician Earplugs and Monitors